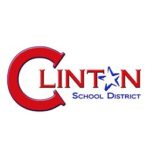 Developing a culture of excellence is a priority in the Clinton School District. When these high levels of achievement and expectations are attained, it's important for us to recognize it.
At Monday evening's Board of Education meeting, the district recognized several outstanding individuals.
Clinton Early Childhood Center students, Ravin Booyer and Maddox Presley were recognized for their outstanding academic growth and kindness towards others. Not present, but also recognized, were Niya Thatch and Hunter Kinne.
The district also took one last opportunity to recognize its End of the Year Award recipients.
Educator the Year Rikki Mesh received a monetary award from the Education Foundation for Clinton Students, Inc.
Cardinal Rising Star, Melynne Jones, and Support Staff Employee of the Year, Tammy Carroll, both accepted a generous donation from the Wetzel Family Foundation. Presenting this award was Susie Wetzel.
The district recognized Hawthorn Bank as this year's Friend of Education recipient. This award is presented to a business, organization, or individual that goes above and beyond in supporting the district's efforts with their time, talent and treasure. Hawthorn Bank has supported the Clinton School District for many years through the Bright Futures program. Accepting this award was Kristi Austin, Beth Webber, and Dave Garnett.