Consalus Funeral Home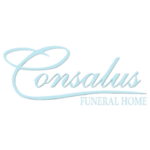 Listing Title:
Consalus Funeral Home
Description:
The history of Consalus Funeral Home dates back to 1933 when Gene Consalus and Grover Peck put years of experience and knowledge to work as local undertakers in the Clinton community. Their business grew more successful each year, due to the outstanding service they provided.
In 2005, the old building was replaced by a new modern facility. Filled with tradition and warmth, Consalus Funeral Home was designed with the comfort of your family in mind. Consalus Funeral Home is large enough to accommodate any need, is handicapped accessible and offers the convenience of a large, well-lit parking lot for family, friends and visitors.
At Consalus Funeral Home, they understand that each family is unique and has personal requests and traditions. They are honored to help families create meaningful funeral services that are personalized to each individual need and affordable to all.
Their licensed funeral directors are always available for assistance and guidance at a most difficult time. They are your friends, your neighbors, and the people who are there for you when you need them most. They appreciate the opportunity to serve your family and care for your loved one.
[BUSINESS HOURS]
•Monday-Thursday (8:30 AM-4:30 PM)
•Friday (8:30 AM-4:30 PM)
•Saturday-Sunday (BY APPOINTMENT)
[FACEBOOK]
Consalus Funeral Home